PRODUCT INFORMATION
Size & Fit
Exchange & Return
CUSTOMER REVIEWS
PRODUCT INFORMATION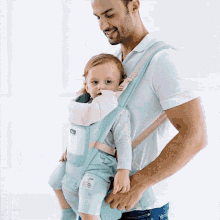 Introducing the 9-in-1 Baby Carrier from Huifen! This versatile and ergonomic carrier is perfect for carrying your baby in multiple positions, from newborn to toddler. The hip seat design helps to keep your baby in the correct sitting position, while the detachable waist stool provides support for different carrying positions.
Made from skin-friendly and durable cotton fabric, this carrier also features upgraded buckles for a secure and comfortable fit. Whether you're looking for a carrier for everyday use or a convenient way to travel with your baby, the 9-in-1 Baby Carrier from Huifen is the perfect solution!
This 0-48 Month Baby Carrier Bag Travel Multifunctional is designed to be comfortable and lightweight for your little one. It can be adjusted to fit babies aged 0-48 months, and offers unparalleled support and safety with its soft and breathable fabric and inner cushion. It also provides great convenience with its travel-friendly size and multiple carry options.
Welcome the freedom of movement and adventure with our 0-48 Month Baby Carrier Bag Travel Multifunctional. With a secure design for a safe and comfortable journey, you can embark on new journeys with your little one in tow. Unleash your spirit of exploration and take the path less traveled today!
Cozy up your little one in this 0-48 Month Baby Carrier Bag Travel Multifunctional! Perfect for keeping bambinos comfy on the go, this bag is the ideal way to take your tiny tot out and about – just pop 'em in and hit the road! Backpacks never looked so cute!
This 0-48 Month Baby Carrier Bag Travel Multifunctional is the ideal companion for modern parents traveling with their little ones. Crafted with breathable and high-strength fabric, it offers a safe and comfortable way to carry your baby. Its multifunctional design offers a versatile way to carry your child from infancy to their toddler years. Ideal for parents seeking a luxurious and stylish solution to their mobility needs.
Exchange & Return
RETURNS
Thank you for shopping with ComfynChic. We hope that you had a ultimate luxury shopping experience with us. If for any reason you are not fully satisfied, you can return purchases within 7 days of receipt.
NOTE: Return of the product may not be applicable on all products. Please check the terms and conditions before purchasing the product.
For returns, please follow the instructions for returning your order with the same carrier that shipped it. For exchanges, please see the information at the bottom.
RETURN CONDITIONS
All items must be returned in their original condition, without having been worn, washed or altered, and with tags still attached. Please make sure to include all item boxes and dust bags with your return.
Only one prepaid label is provided for each order, therefore all goods must be returned in the same parcel.
We can only accept returns from the country to which an order was originally shipped, for example, orders delivered to in United Arab Emirates (UAE) must be returned from in United Arab Emirates (UAE) . Otherwise, the return is unfortunately not free of charge (import and shipping fees will be charged at your own expense)
Customized items cannot be returned.
Products from the LIFE category cannot be returned.
Your refund will be credited to the original payment method.
When returning items that arrived in separate parcels, please carefully pack them into their original packaging. Kindly use the individual labels for each parcel.
REPEAL POLICY
REPEAL OF PURCHASE BY WAY OF RETURN
Your repeal of purchase will automatically take effect if you return the items (if they are applicable for return) within 7 days as indicated above
RELATED PRODUCTS